Tea-producing areas in Japan
Tea is produced everywhere in Japan, except on the northern island of Hokkaido and in Greater Metropolitan Osaka. However, in some prefectures, tea is not grown commercially. The most northern prefecture where tea is grown commercially is Niigata, where Murakami tea is produced.

Yet, only a handful of tea-producing areas are known to the general public.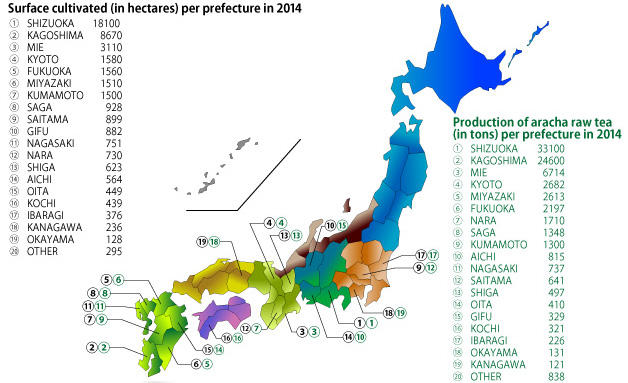 First, Shizuoka Prefecture is the leading tea-producing area in Japan. Around 40 percent of Japan's tea plantations are in Shizuoka. Shizuoka and Uji in Kyoto Prefecture are also the best-known tea-producing areas. However, Kyoto Prefecture is in only seventh place in terms of plantations (with only three percent of Japan's total). In fact, the second-largest tea-producing area in Japan is Kagoshima, on the southern island of Kyushu. It accounts for 20 percent of Japan's plantations. While it is still unfamiliar to many, Kagoshima tea is growing in popularity thanks to use of many different tea plant cultivars, which has led to a wide range of different flavours. Also on the island of Kyushu, Miyazaki, Kumamoto and Fukuoka are the fourth, fifth and sixth largest tea producers. While Fukuoka is very famous for its Yame tea, Miyazaki and Kumamoto are still relatively unknown, despite producing very high quality tea.
Finally it is important to note another famous tea-producing area: Saitama Prefecture, just north of Tokyo. Tea from Saitama is very popular in the capital region, even though its production has been constantly decreasing.
The widespread Japanese tea, sencha, is produced everywhere tea is grown. However, almost all gyokuro is produced in Kyoto (Uji tea) and Fukuoka (Yame tea). Mie Prefecture (little known despite being the third largest tea-producing area) specializes in kabuse-cha. Tamaryoku-cha is essentially produced in Kyushu.
Of course, the land and soil in each area influence the tea's flavour, but production techniques and cultivars are also decisive factors at the origin of the wide variety of flavours and fragrances of Japanese tea.